---
Surf Fishing
I reached out to my good friend Mike Smith that offers guided private surf fishing trips.  I asked him to write an article about his service to help anglers that visit our site find what they are looking for.  He responded by answering the following question.  Take a couple minutes to read what Mike had to say about surf fishing.
Why Choose a Surf Fishing Charter?
When most people think of booking a fishing charter, they think big boats for offshore and near shore fishing.  But did you know there are land-based surf fishing charters as well?  Surf fishing charters are a great alternative to the traditional charter and typically less expensive. They are also perfect for families and those who just aren't comfortable in boats but still want to do some fishing. There are only a handful of guides along the Gulf Coast who specialize in this type of adventure and we are proud to be one of them.
Surf fishing is done with much larger rods than conventual boat fishing. Our typical set up includes 10–12-foot rods to cast anywhere from 10-100 yards off the beach. That's right, just as little as 10 yards off the beach will get you hooked up on some of the most prized fish swimming in the Gulf of Mexico. You can also sight cast and have some amazing fights with schooling fish first thing in the morning or just before sunset. What better way to begin or end your day on the beach!
The biggest question we get asked by beach goers is, can you really catch fish from the beach? Absolutely, in the spring you'll see fishermen lined up along the beach anxiously awaiting the pompano to make their spring run. This usually begins to happen around the second to third week of March and will last through the end of May. Along with pompano, whiting, bluefish and spanish mackerel will start to show up in the spring and hang around all summer. We will even get small blacktip, spinner and bonnethead sharks during this time as well. Starting in late September the fall pompano run will kick-off as they begin to migrate west. Large red and black drum will start to show up as well and carry us into and through the winter.
Catching these fish from shore can be challenging, knowing where they are and reading the water to know where to place your bait takes experience. We suggest using a guide, this will help make your time on the beach fun-filled and rewarding. Whether it's fried, grilled or blackened the fish listed above make for good eats, which is another reward of your patience and time on the beach, not to mention a killer tan!
By Mike Smith
Local Surf Fishing Guide and Retired US Air Force Veteran
You can find more information on Mike's guided surf fishing trips by clicking here or you can give him a call at 850-529-5405.
Recent Posts
March 14, 2022
January 21, 2021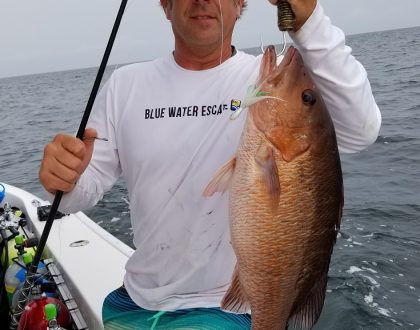 January 20, 2021