---
Cobia
In early spring when the waters start to warm, the Cobia begin to run.  After the spring migration many Cobia will hang out in our area until late fall.  Every year, we await word from the coconut telegraph that the first Cobia of the season has been spotted.  It's an exciting idea to be the one to catch the first Cobia of the year.  On our Federally permitted fishing charter, the minimum size limit for Cobia is 36 inches.  We can keep two Cobia per person.
Cobia are a long brown fish with a fat head and a whitish belly.  When you hook a Cobia on your fishing charter, be ready for a good fight.  They are often mistaken for sharks or remora fish.  In fact, Cobia are related to the remora.  They have a distinctive dark lateral stripe that runs from their eye to their tail.  They can get as large as 6 ft in length with a typical catch can be between 20 and 70 pounds.
Cobia don't come around every trip.  We catch them by being prepared for the chance they might show up.  The larger cobia typically run in the upper water column, so it works well to have a bait sitting near the surface under the boat just in case one comes by.  They favor live baits, one bait in particular better than any other.  The secret bait is…., well we can talk about that another time.  You may even spot one swimming up to the back of the boat looking for a stray bait.  That is why we always have a heavy spinning rod with single live bait hook waiting to be baited and tossed out.  If you get the bait in their line of sight, its on!   They hit the bait like a freight train and fight all the way to the gaff.
Landing a Cobia is an awesome experience.  Besides catching a beast fish that gave you a good fight, Cobia are highly regarded table fare.  Their flesh has a firm texture and mild buttery taste.  They are enjoyed many ways to include grilled and pan seared.  They are often served in tacos and ceviche as well.
The Florida state record for Cobia is 130lb 1 oz. and it was caught in Destin in 1997.
Click here to check our rates.  Click here for information about our charters.
Recommended Posts
March 14, 2022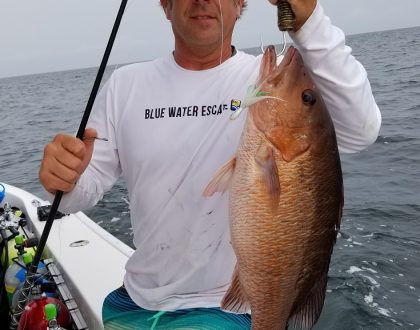 January 20, 2021
January 20, 2021