---
Gag Grouper
Gag Grouper are an excellent choice for charter fishing in the Destin Fort Walton Beach area.   They are extremely challenging because of their brute strength and many people have been and will be beaten by grouper.  Once on a good grouper spot, an angler must be ready for the bite.  If you're not paying attention, the bite will be so intense and quick that the grouper will be in the structure before the angler can react.  If you are sitting down, you are not grouper fishing; you are grouper feeding.
Gag Grouper season is typically from June 1st to December 31st.  These seasons are announced in the spring.  Grouper are required to be 24 inches to retain and the bag limit per angler is two fish.  Typical catches are 24 to 30 inches long.  I consider any grouper catch to be nice and ones above 36 inches to be beast.
Grouper will eat large live baits, dead baits, and vertical jigs.  We most commonly catch them on live bait with heavy tackle in depths 80 to 300 feet.  Grouper can be caught on just about any of our bottom fishing charters but, to secure a good chance at a grouper we recommend at least an 8-hour trip. The best grouper fishing spots are well off-shore and we will need the additional time to get there.
Grouper is highly prized by culinary experts.  The fillets are large, flaky and white with a sweet flavor.  They can be prepared in many ways, but we prefer them grilled or blackened.  My personal favorite is a grilled grouper sandwich.  Grouper is also good in ceviche.  Many local restaurants will cook your fish for you.  See our Hook and Cook blog post for details.
Click here for more information about charters.   Click here for our rates.
Recommended Posts
March 14, 2022
January 21, 2021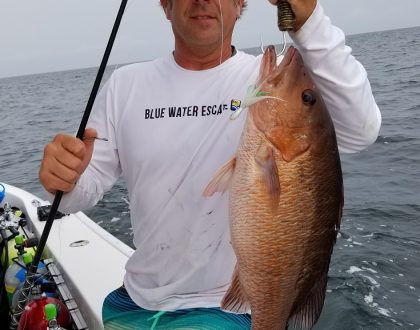 January 20, 2021