---
2018 Fishing Seasons
In the past several years, fishing regulations have become tough to keep up with for almost everyone in the industry.  They seemingly change at a moments notice.  So, this is what we know as of today for the 2018 federal fishing season.
Triggerfish is set to open back up on 1 March and stay open until the end of May.  The season will open up again on 1 August.  The total recreation catch limit is 241,200 pounds.
Amberjack season is still under review.  It looks like that it will open for the month of May and close for June and July.  In the fall, we could see an August, September and October season.  We will post as soon as the official bulletins are released.   The amberjack recreation catch limit is 862,860 pounds.
Red snapper season has not been set, but there is no reason not to expect a season similar to 2017.  We are planning for a 1 June- middle July season.   In 2017, the federal red snapper season was announced on May 2nd.  We will post once the season has been set.  The recreational catch was 6,603,094 pounds for 2017.
Gag Grouper will open 1 June
Scamp grouper and red grouper open year round (closed outside 20 fathom line Feb-Mar)
Open year round:
Snowy grouper,yellow edge grouper, speckled hind grouper,  warsaw grouper, tilefish, mingo snapper, mangrove snapper, lane snapper, white snapper (red porgy), almaco jack, banded rudderfish, king mackerel, mahi mahi, wahoo, cobia, and tuna.
For information on our trips click here.
The above information was pulled from the following links:
Federal recreational regulations   This link is a comprehensive link to  the regulations.
Federal Fishery Bulletins This link will take you to a list of the current fishery bulletins.   This is where updates and changes are announced for the federal fishery.
Recommended Posts
January 21, 2021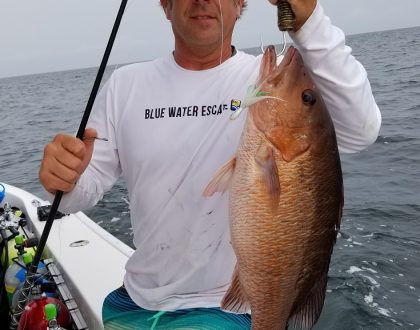 January 20, 2021
January 20, 2021